INTRODUCTION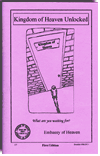 The big topic today is The Kingdom of God, or the Kingdom of Heaven, which has been established now for almost 2,000 years. We're uncovering some incredible Kingdom information that has been one of the best-kept secrets of Christianity.
The problem today is that many of us are like the Pharisees of Jesus' day. We tend to base our faith on things that we can see. Yet Hebrews 11:1 says that "Faith is a sure confidence of things which are hoped for, and a certainty of things which are not seen."
And the "not seeing" is the problem. When Jesus was asked when He was going to establish the Kingdom, He said that the Kingdom does not come with observation. "The kingdom of God cometh not with waiting for" (Luke 17:20). That means the kingdom is not an optically perceived event.
In the next verse He says, "For behold, the Kingdom of God is within you." Even so, many people have been taught to look for a future physical kingdom here on planet earth with Jesus Christ sitting on the throne, ruling the world from Jerusalem. Nothing could be further from the truth.
Paul Revere was on a couple of my radio shows dealing with the issue of Romans 13, and he does an incredible job on that. Paul has been dealing with this Kingdom issue for a number of years and I think it's great when the Kingdom becomes a little more real.
When we talk about the Kingdom, we almost always think about this castle and all the pomp and circumstance where Jesus Christ is going to physically sit on a literal throne with a rebuilt temple and rule the world. But that is a manmade doctrine; it's not a Biblical doctrine. That wasn't what Jesus was teaching. That's not what He had in mind.
Today we have uncovered something that is incredible, and it is one of the best-kept secrets of Christianity.
Introduction by John Anderson on the Voice of Reason radio show.